We are looking for new members for our team.
Commercial Mechanics Wanted
We encourage you to contact us if you want an informal interview prior to applying. See who we are, where we work, and if this is a good fit! Some questions and expectations we have prior to meeting us:
How many years of schooling have you completed in Commercial Transport (Truck and Transport) or Heavy Mechanical?
We desire and prefer Heavy Duty Mechanics with 3+ years experience. We also prefer those with an Inspector's Certificate.
We will still be glad to meet you and see if you align with our team if you are working on these attributes!
Salary: $40 an hour, plus overtime pay
Job type: Full-time, Permanent
Benefits: Dental care, Extended health care, RRSP match, Vision care
Send your resume to info@rojtruckandtrailer.ca
Other Positions:
ROJ Truck and Trailer is also hiring certified Journeymen, Red Seal Heavy Duty Mechanics, and Apprentices. Send your resume to info@rojtruckandtrailer.ca
Responsibilities/Duties:
Performing quality repairs & preventative maintenance services on heavy trucks and trailers.
Ensure repairs are carried out according to manufacturer's procedures and in a safe and responsible manner, within the designated timeframe.
Interpreting work orders and technical manuals with the aide of your supervisor.
Assist in fault diagnosis and troubleshooting mechanical & electrical failures.
Comply with warranty procedures during repairs and warranty materials on completion of repairs.
Testing and inspecting vehicles to ensure repairs are completed to manufacturers' specifications and Government standards.
Ensure service documentation is completed as per instructions.
Notify Team Lead of any additional repairs needed.
Training and/or assisting other technicians or apprentices with their work.
Participate in any technical training or development training that is made available.
Ensures that all completed jobs are quality checked for discrepancies.
Continuously monitors the effectiveness of the various strategies aimed at reduction of Costs, Wages, and improvement of Quality Control procedures.
Ensures that the ROJ facility is a safe and healthy working environment for all personnel.
Provides all relevant, necessary information to the Office Manager to ensure that all jobs are invoiced promptly and accurately.
Conducts himself in a professional manner, constantly assisting personnel in the development of proper work habits.
Demonstrates good judgment in solving problems and making decisions.
Respects and maintains the confidentiality of company, customer, and personnel information.
Maintains cooperative working relationships with supervisors and other staff members in all departments.
Understands that – THE CUSTOMER IS OUR FIRST PRIORITY – and strives to support that priority.
Stays aware of current company policies and procedures and adheres to those regulations.
Maintains an appearance appropriate for the position and situation.
Maintains adequate controls to safeguard the inventory and minimize handling, storage, and damage costs.
Performs any other duties as may be assigned by Lead Hand.
Required Skills and Experience
Minimum 2 years' experience as a truck and trailer mechanic.
Honest and reliable attitude.
Team player with a good attitude.
Detail and accuracy-oriented to ensure no information or detail is overlooked.
24-Hour Mobile Truck & Trailer Repairs All Over the Interior
Now Hiring Mechanics – Click here for more details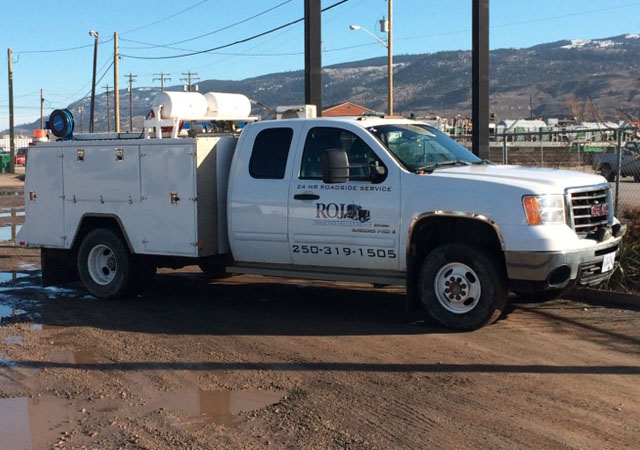 Count on us For…
Drop-in oil changes and lube
Diagnostics and repairs
Front end work
Wheelbase modifications
5th wheel overhauls
And much more
Service Area
Servicing trucks in the BC Interior:
Armstrong, Ashcroft, Avola, Barriere , Blue River, Bridesville, Cache , Creek, Chase, Clearwater, Coalmont, Coldstream, Enderby, Falkland, Kamloops, Little Fort, Logan Lake, Merritt, Salmon Arm, Savona, Sicamous, Sorrento, Spallumcheen, Spences Bridge, Tranquille, Valemount, Vavenby, Vernon